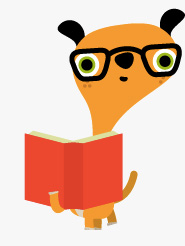 Orange – Flickometer
Our work on the Orange Flickometer for the 2011 BAFTAs allowed users to look at current and historical Twitter buzz on the biggest actors, directors and films.
A Hollywood Story
Fame, fortune, your name in lights. Well okay, not you, unless you're Johnny Depp (and if you are, can we have an autograph?). The BAFTAs are a glittering event on the film and television calendar, when actors, directors and crew climb on stage to pick up a slightly creepy metal face on a stick, as a reward for their sterling work on screen.
Working with regular collaborators at Poke, we helped create the Flickometer for Orange, main sponsor of the BAFTAs. Our platform allowed the Flickometer to capture Twitter buzz about the hottest films, actors and directors, and display them in bubbling columns of tweets.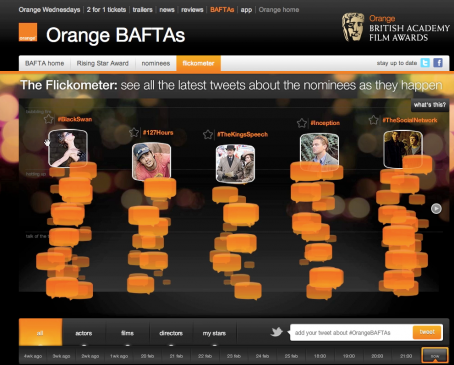 Depth of Field
As well as capturing chat about the talent and the flicks, our custom-built platform also picked up tweets about the awards themselves, and feedback about the winners and losers. As well as gauging the overall buzz about key topics, the Flickometer also allowed users to read individual tweets, and even join in by tweeting straight from the Flickometer.
As Time Goes By
Another important feature we created for the Flickometer was timeline functionality, which allowed users to navigate back to the start of the pre-BAFTA campaign, so they could track the changing fortunes of different films and people over time.
The End Credits
The result of all this ingenuity was that site users spent around double the amount of time on the Flickometer than on any of the other pages on the Orange BAFTA site.
Production and design for the Flickometer was by Poke, and Flash build was by Sennep.
And now, Mr. DeMille, we're ready for our close-up.