See Smesh in Action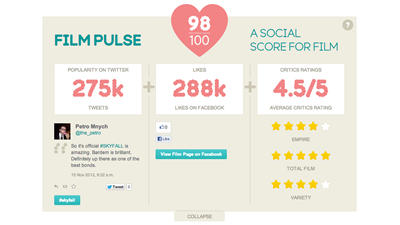 Fancy a trip to the flicks? Smesh can compare all sorts of different-but-interesting stuff, from fizzy drinks to political candidates. Film Pulse is a movie-ranking system used in EE's Film offering.
read more
Latest Work
The EE Social Hub enables teams across EE to track public opinion on key topics in realtime.
read more
From the Blog
Not quite an award: we were shortlisted in the 'Technological Innovation' category for our Orange Film Pulse project. We were in pretty auspicious company, so just getting on the shortlist made us happy.
read more
Hot on the heals of its Data Strategy Award, the Orange Flickometer has won a prestigious Revolution Award for best use of data visualisation. The revolution awards celebrate innovation in digital marketing, which is exactly what the Flickometer project represents.
Produced for the 2011 BAFTA film campaign, the Flickometer measured the online buzz …
read more
Smesh was thrilled to bits to win a Marketing Week Data Strategy Award for the Flickometer, which we developed for Orange's 2011 BAFTA campaign, supported by production and design work from Poke and Flash build by Sennep.
read more